Her Background and How She Came to Me
In early September 2023, I got a call late at night asking if I could foster an emergency rescue case just overnight until the rescuers could take the dog to the vet the next day. I didn't know those people well, but taking in emergency midnight guests had started to become a common thing for me in the past couple of months. Knowing it would be difficult to find anyone else awake and willing to help, I agreed.
They brought the dog to me around 1am and briefly told me her story. They'd seen a Facebook post about a badly injured stray puppy at an apartment complex called Casa Ria. The resident who posted told them the puppy had been beaten with an iron rod by another resident. Apparently, she was the only witness and refused to make a police report or post these details publicly for fear of repercussions. The puppy had been wandering around with the injury for some time, but as the resident was elderly, she couldn't catch her herself and didn't know what to do.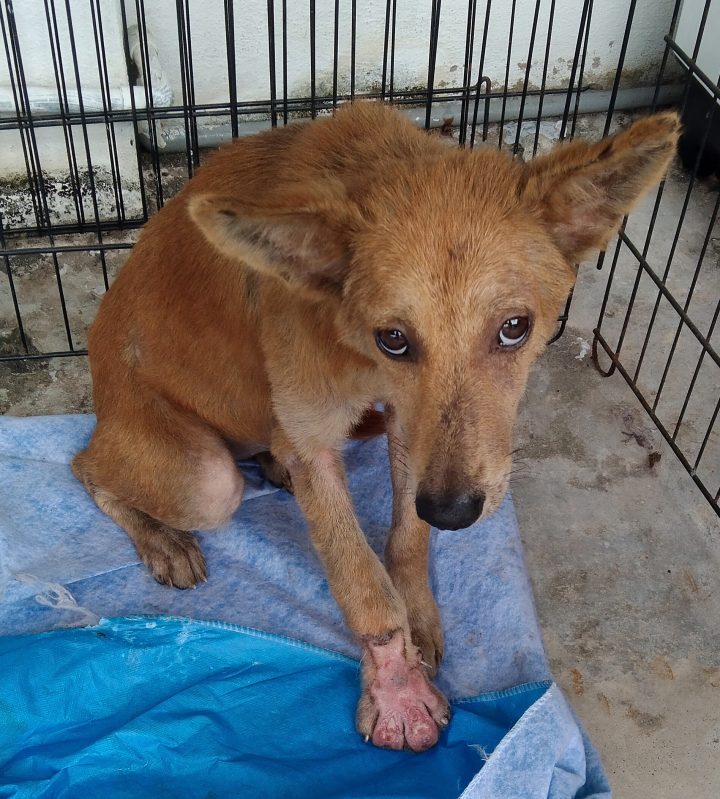 The rescuers called the puppy Ria, after Casa Ria (maybe not the best name for her considering what happened to her there). Understandably, she looked miserable and terrified.
I put her on the porch in a playpen with a blanket in it for the night and carefully kept my own excitedly barking dogs in the house so they wouldn't run out and scare her more. David, my outdoor foster dog, got a bit nosy when I gave Ria some food, but at least he gave her some space. The poor girl had no interest in eating.
All I could do before the rescuers came the next day was make sure she had water and was as comfortable as possible, which wasn't much.